Have you ever thought about which technology you might see in the future in your Baltimore, MD office break room? Many of those new technologies are likely to first be found in quick service restaurants and grocery stores. They include interactive kiosks, robotsas (a cross between a robot and a baristas), and unattended retail technology or vending machines that sell unique products. The following is a list of technology that is either in use today or will be soon.    
Coffee Robot: It's exactly what it sounds like. The unattended coffee distribution system or robot barista makes a variety of customizable beverages. Customers order their favorite caffeinated beverages from a smartphone app or a nearby tablet, and pick up their beverage from the robot. If you're lucky enough to be in Austin, TX or San Francisco, CA, then you can try one for yourself.
Robotic Kitchen Restaurant: A new restaurant has recently opened in Boston, MA that is unlike any other. Customers use a touch screen to choose an entree on the menu, add additional ingredients, and remove unwanted ones. The robot then gathers the ingredients, cooks them in a hot pan, and passes the cooked food on to a human who adds some garnish and labels the bowl—all in under three minutes.   
Pizza Robot: This one is also exactly what it sounds like although there are currently several different types across the country. Whether the robot assists restaurant employees with making the pizza or is part of cooking the pizza and bringing it to you, it's all about creating a delicious pizza pie as quickly as possible.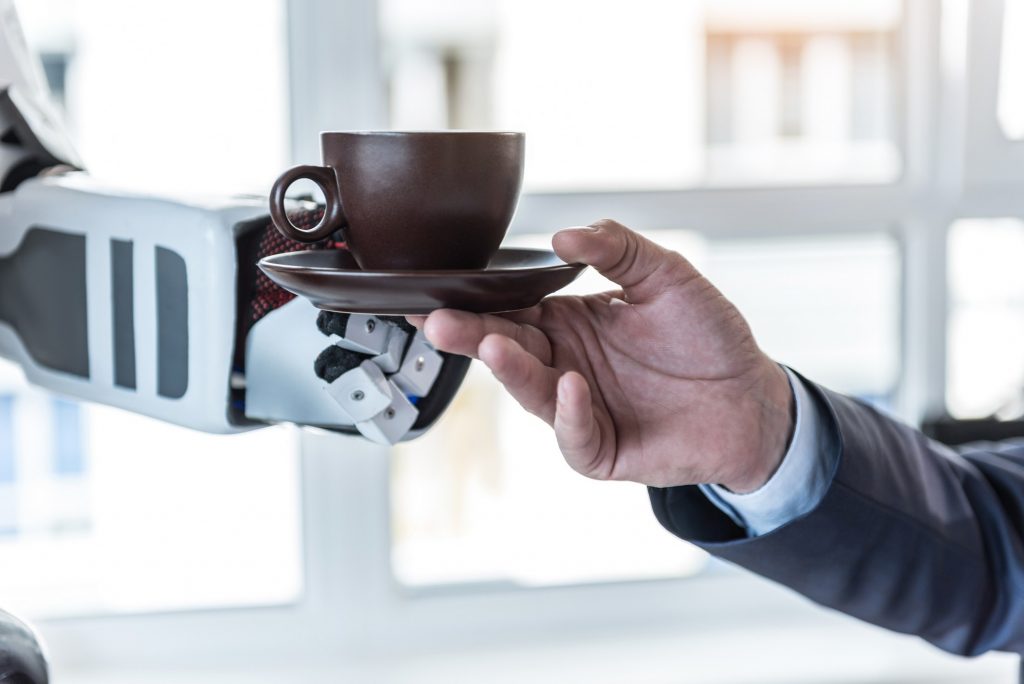 Robotic Burger Flipper:  Still one of a kind, this robot in California can flip burgers twice as fast as a human. The robot continues to learn by using feedback loops from its co-workers as well as from its own mistakes. But, there are still a few kinks to work out as this robot works too fast for its human counterparts.  
Ice Cream Self-Serve Robot: It's an ice cream/frozen yogurt shop that makes customizable treats in a vending machine with a robotic arm. While it's not available yet, it will soon be easier to enjoy a sweet treat especially when grocery shopping.
Unique robots aren't the only innovative technology that might appear in a break room. Many Baltimore, MD break rooms already use cutting-edge technology such as ENERGY STARⓇ certified vending machines, LED lighting, wireless technology, and mobile payment systems. What's in your Baltimore, MD break room?
Whether you'd like to update or make a few changes, SunDun Office Refreshments can help. We can also help customize the right mix of healthy snacks and beverages to fit your Baltimore, MD employees' needs. Call us at 800.466.2731 for more information. We look forward to hearing from you.