Did you know that the majority of U.S. coffee drinkers do not drink their coffee black? According to the most recent National Coffee Association's National Coffee Drinking Trends (NCDT) report, 68 percent of coffee drinkers add some type of non-dairy or dairy product to their coffee, and about 50 percent add a sweetener. Other trends that the researchers found include:
Dairy and Non-Dairy Additives

35% of coffee drinkers add a non-dairy creamer (or coffee whitener, as it is known in some regions)

14% of coffee drinkers use half-and-half

13% of coffee drinkers prefer whole milk

5% of coffee drinkers enjoy a non-dairy milk alternative

Coffee Flavoring Preferences

21% of coffee drinkers prefer the flavor to be in a powder or liquid creamer

5% of coffee drinkers would rather add the flavoring by itself

Demand for "clean label" creamers or creamers made from natural ingredients including plant-based creamers has surpassed demand for "traditional" flavored creamers

Increased Demand for Sweeteners

38% of coffee drinkers use sugar

12% of coffee drinkers prefer artificial sweeteners



With an increase in the type and number of potential options that can be used to change the flavor or sweetness of a cup of black coffee, it is important to take the time to understand your employees' preferences. If their preferences aren't available, they are likely to go offsite to find that "perfect" cup of coffee.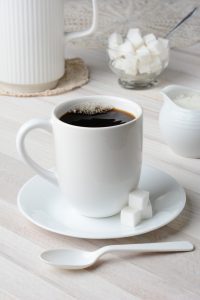 Offering cafe-style coffee service in the office break room is a cost-effective way to help encourage Alexandria, VA employees to stay onsite when they want a cup of coffee. To make sure everyone is able to customize their coffee, consider offering a mixture of the following products in the office break room:
non-dairy creamer (or coffee whitener): a plain or flavored liquid or granular substance added to coffee, tea or hot chocolate

half-and-half: contains equal parts of whole milk and light cream, and has 10 to 12 percent fat content (more fat than milk, but less fat than cream)

milk: cow's milk that has been fortified with vitamins A and D, and is available as whole milk (~3.5% fat), 2% reduced-fat milk, 1% low-fat milk, and fat-free or skim milk

non-dairy "milk" options: almond milk, rice milk, soy milk, etc.

sugar: granulated or "regular" sugar, cane sugar, organic sugar, etc.

artificial sweeteners: aspartame, saccharin, sucralose, etc.
Which items do your Alexandria, VA employees request the most? Are they available? Whether your current coffee service needs a tune-up or you want to create the ultimate break room by adding cafe-style coffee service, SunDun Office Refreshments can help. For more information, contact us at 800.466.2731.